Executive Service Roundtable:
Shifting to a Product-as-a-Service business
Pro's and con's of Product-as-a-Service business models
A few notes from the discussion sessions
What is Product-as-a-Service:
There are many conceptual topics around advanced services, which are often not very well defined when working on these concepts.
Just think about Product-as-a-Service, performance-based contracts, outcome-based services, servitization and even advanced services.

The challenge is translating these concepts into concrete visions and strategies for your industry and your company.

It helps to differentiate the value propositions versus the revenue models.

The diagram below may clarify the different concepts.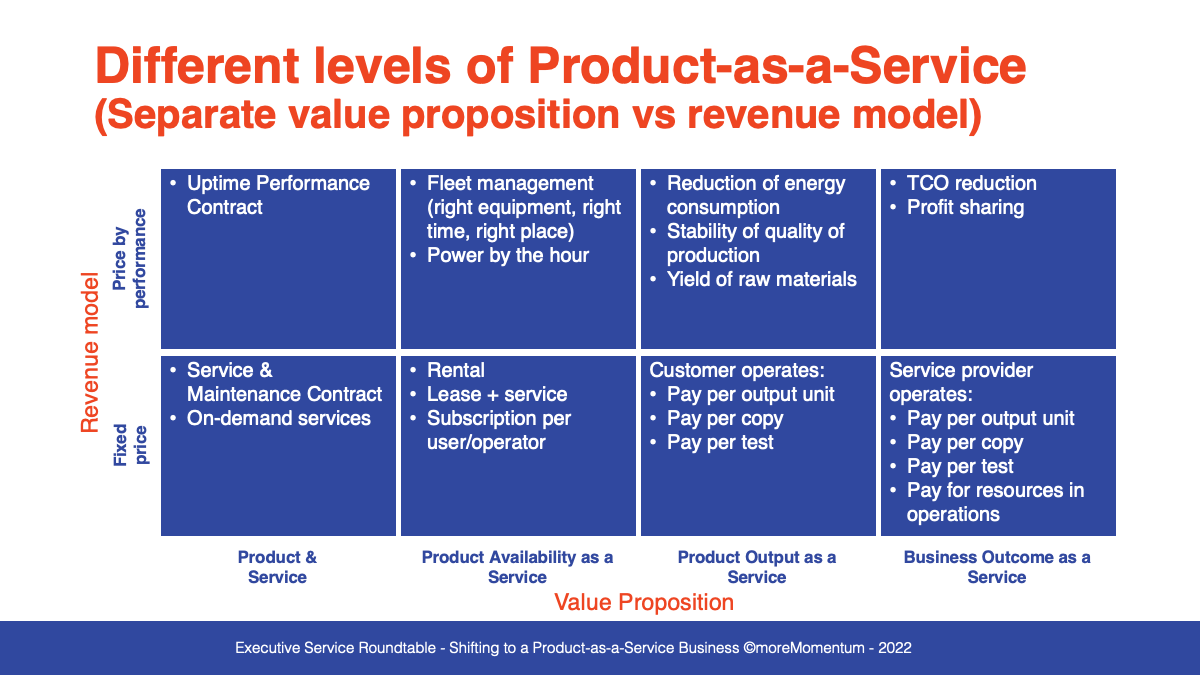 (Click here or the image to download/view the diagram. It is also part of the slide deck)
Above does not address other services and solutions, like data-driven insights as a service.
Drivers to shift to a Product-as-a-Service Model:
In several industries, customers expect service providers to shift gears and take a broader scope of responsibility and risk.


This is not only shifting from CAPEX to OPEX (in terms of the balance sheet) but also taking away the unwanted hassle to manage the assets or having a higher degree of flexibility to adjust the capacity of the equipment to demand.



However, in general, the customer pull is not strong yet.
Most heard is that it is challenging to convince customers about the value and pay for more advanced services.

Still, it is considered vital to keep developing and innovating the service business:

Stagnation leads to decline.

Industries are changing. Typically, these changes are exponential.
The only way to be prepared for those changes is to innovate today!

Some of the trends that will probably accelerate the demand for more advanced service models are:

Digitalization and automation of operations of customers.
This changes customers' complexity, challenges, pain points, services they need and expectations of service providers.
Electrification of machinery and equipment.
This reduces the need for maintenance and changes customers' complexity, challenges, pain points, services they need and expectations of service providers.

Increasing pressure to reduce consumption and waste of (natural) resources and reduce environmental footprint.

Entrance of new, digital-native players squeezing themselves between customers and OEM manufacturers.

In industries where customers do the maintenance themselves or outsource this to 3rd party service providers, advanced services could be a way to increase the share of wallet of customers back.

More general, c-level stakeholders are looking for:

Predictable, recurring revenues.

New growth avenues.
Some of the risks:
Pushing value propositions that are not desired, viable or feasible.

Getting stuck in models that are hard to scale, for example, because of the dependency on scarce human resources.
Critical success factors:
A high ratio of connected and accessible equipment for predictable and efficient maintenance operations.

Segmentation based on customers' (future) needs.

Having a solid vision of the industry's future and customers' businesses, including their (future) business challenges and needs.

Build strong capabilities and capacity to explore, learn and innovate.

This transition is not just service. Practically everything changes in your operating model and organisation.

What you sell, to whom you sell, and how you sell changes. Also the domain expertise of sales changes.

Financial model, balance sheet, revenue recognition changes, including financial risks.

Legal aspects change.

During the transition, you may need to organise differently (for example have a separate entrepreneurial business unit in the early stages) and adjust the organisation structure as the new business line scales.