Mitigate the Impact of Covid-19 in Field Services
Survive and Thrive from the Disruption
The service business has been a facing major impact from the Covid-19 pandemic, which will go beyond the serious struggles they have been facing in 2020.
Phase 1: Rapid Response mitigating the immediate impact on continuity and safety.
Phase 2: Review and Outlook, ensuring we take a strategic and longer term view and and course to survive and thrive.
Phase 3: Redesign and innovate to thrive.
Download your pdf
Coming from the
moreMomentum
Services Community
Why this guide
We have been in the Covid-Crisis for a while now, and it still is uncertain how long the governmental restrictions and limitations will be in force.
It is also hard to predict how long and deep the economic impact will be and what other impacts the crisis will have on our industries. Nevertheless, there are strong signs Covid-19 is here to stay for a while - as are the impacts from the pandemic.
Previous crises have taught us that during and after a crisis, leading innovators set themselves apart from the stagnating laggards. Leading innovators continue with more radical and viable innovations which are aligned with the changing environment and industries. They are less vulnerable for the changes and are better able to reap the benefits of the new opportunities.
The name of the game is:
Mitigate the direct impact immediately.

Get on the fence to prepare for the "post-crisis" and thrive in the upcoming market disruption.
We must not stay in a defensive fire-fighting mode to avoid being disrupted and becoming one of the losers.

Fast track the Redesign and Innovation of your business, with the right focus.
It is too complex to win this with a hack, a tactic or a silver bullet. We need a framework to succeed.
We do not have the crystal ball. But we do have to act promptly.

We need a framework to survive COVID-19 and thrive.
That is why we started the Best Practices Project on Covid-19. The mission of the moreMomentum Services Community is to;
Accelerate the learning curve, to avoid that we all make the same mistakes.

Collect and develop emerging best practices.

Provide a framework for each phase to overcome the impact of COVID-19.

Document emerging best practices which can serve as a practical guide.
Together, we can overcome the impact of COVID-19, stay close to our clients and prepare for similar crises in the future.
The research and community
moreMomentum is a services community for manufacturers that captures, develops, shares and applies (new) best practices for digital services and radical business innovation that enable our members to grow and thrive during the ongoing disruption, which is being accelerated by the Covid-19 pandemic.
The research was conducted in two phases:
Phase 1 - Rapid Response to the immediate impact on safety and continuity.
In March and April moreMomentum conducted a research project to capture and share the emerging best practices for this phase. This resulted into the "Ultimate Guide to Phase 1 - Rapid Response to Overcome Covid-19"

Phase 2: Review and Rethink, to gain a broader, more holistic and longer-term perspective on the crisis. This resulted into the research report Innovate your way out of the Covid-Crisis, which covers:

How to secure continuity when the crisis continues for a longer period.

How to overcome an economic recession which may follow.

How to survive and thrive during disruptive changes during and after the crisis.
Phase 1: Rapid Response
This "Ultimate Guide to phase 1 – Rapid Response to the COVID-19 Crisis" is based on an ongoing research starting in March 2020 amongst many service leaders across the world in various B2B equipment manufacturing industries.
We already conducted activities like;
(Live) interviews

Q&A sessions

Webinar with practitioners from leading manufacturers

Desk research on crisis management in general and specifically related to COVID-19

Group discussions with Peer Groups of the moreMomentum Services Community
This guide is part of a total package of deliverables, which includes;
Recordings of live interviews, Q&A sessions and webinars
Phase 2: Review and Outlook
In May, June and July we conducted the research "Innovate your way out of the Covid-Crisis" to capture best practices and strategies for "Phase 2- Review & Rethink", about how to overcome the longer duration of the crisis and preparing to thrive post-crisis.
This research consists of:
A web-based survey.

One-2-one interviews with service leaders.

Interactive peer-discussion with 2-3 service leaders.
In total 94 service leaders have participated in the research, with an even spread over the global regions.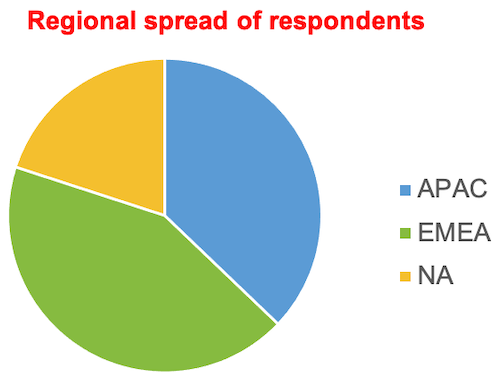 In this research report, we share the findings of our research with the services community in manufacturing industries.
The research is a joint effort of:
moreMomentum
We work with manufacturing companies to grow their service and digital business lines. Our community platform, consulting offerings and courses concentrate on accelerating your service innovation.
moreMomentum.eu

Field Service News
The online home of Field Service News, Europe's leading business magazine dedicated to field service professionals and the field service industries.
fieldservicenews.com

Field Service Asia
A community of Field Service professionals – Heads of Customer Success, Service and Support – from the top 100 Asian Manufacturing, Telco, Utilities and Oil & Gas companies sharing best practice.
fieldserviceasia.wbresearch.com
3 phases
It is critical to follow 3 distinct phases when overcoming the impact of a crisis like COVID-19. This will ensure that you focus on the right things at the right time. In each phase you will have different dynamics, different challenges and different possibilities.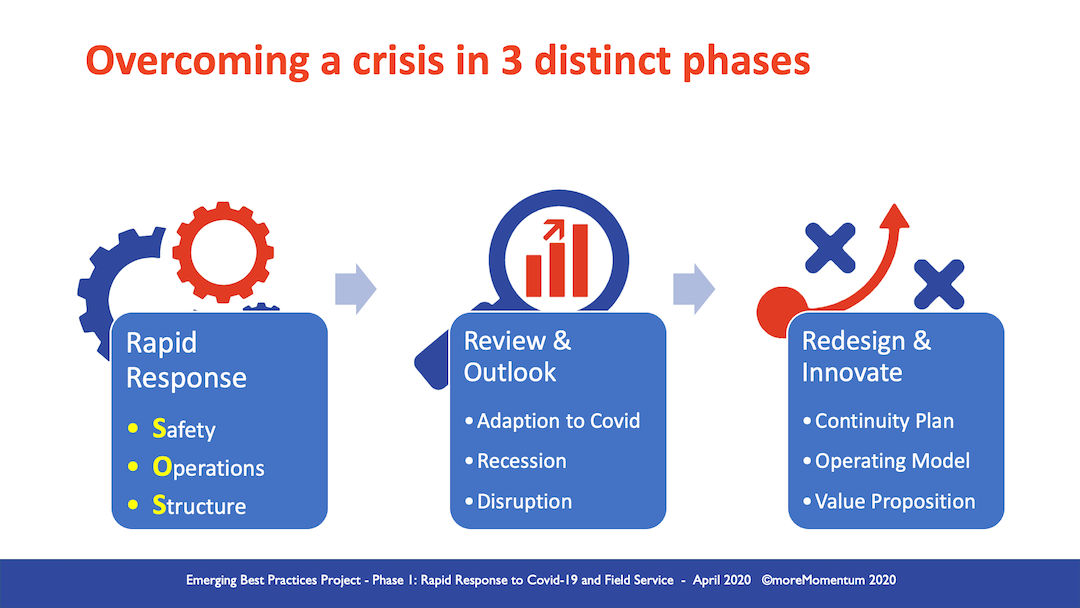 The danger of not following these phases and having the right focus at the right time is that it will;
Confuse your people

Causes misalignment

Increases the risk of taking the wrong actions on the short term, medium term and long term.
By consequence, you will not only miss opportunities, but will also jeopardise the continuity of your business.
Phase 1: Rapid Response
The objective of Phase 1 is to:
Take immediate action

to adequately mitigate the direct threats

Rebuild a stabile situation

, in which the organisation has regained control and established new routines
Typical challenges are:
Critical threats for the safety of people and the continuity of the business

High level of uncertainty for the short term

Temporarily change of governance and execution practices

Avoiding unnecessary damage for the medium- and long term
Phase 2: Review & Outlook
The objective of Phase 2 is to:
Establish more sustainable and stable interventions if the cause of the crisis requires continuation of the interventions

Understand different scenarios for the impact of the crisis on the medium- and longer term
Typical challenges in Phase 2 are:
Staying in survival or fire-fighting mode too long, causing you to miss the next threats and opportunities, which could harm the continuity of the business

Jumping to the wrong -big- conclusions, causing you to focus on and invest in the wrong changes for the medium and longer term

Blaming people for wrong actions taken in the Rapid Response phase, instead of learning

Maintaining resilience of people to persist in the required interventions
Phase 3: Redesign & Innovate
The objective of Phase 3 is to:
Adjust to the "new normal"

Fast track innovations and change to thrive in the upcoming market disruption
The typical challenges in Phase 3 will be;
Maintaining a growth-mindset

Building new practices and culture for innovation and change

Investing in critical innovations to survive and thrive
Phase 1 - Rapid Response to the immediate impact of Covid-19.
Download the full Guide for Phase 1 - Rapid Response
Introduction
This "Ultimate Guide to phase 1 – Rapid Response to the COVID-19 Crisis" is meant to be a practical guide based on emerging practices we have captured from your peers during the "emerging" best practices project of early 2020.
Although it may be a bit early to consider them "best practices", many of the practices and a large part of the desk research is based on common practices in crisis management and existing Disaster Recovery Plans and Business Continuity Plans.
It has become an extensive document with a lot of text, which is probably not the most exciting read. You will already know a lot of the content and apply many of the practices.
Added-value of this guide is;
Confirmation that you are on the right track

Some additional practices which you may want to consider

"Checklist" of more detailed practices to enhance the practices you have put in place

A document to help you review and enhance your Disaster Recovery Plans
When evaluating the practices described in this guide, it is good to consider that;
Every industry and customer segment may have to act under different circumstances and requirements

Your business may face different circumstances and requirements

There is no single best solution
We still need to evaluate the practices to designate any of them as "Best Practices"
Overview of Phase 1 – Rapid Response
The main objective of Phase 1 – Rapid Response is to mitigate the immediate impact of the crisis and regain stability and control. Critical aspects are;
Protect people

Continue critical operations

Secure cash

Not jeopardising continuity of the business after this first phase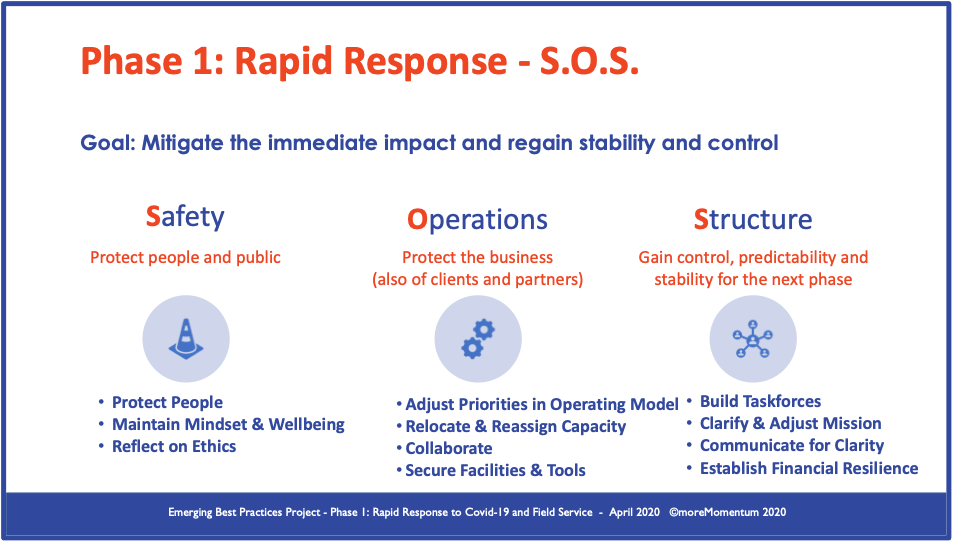 We have captured practices and tactics from 46 service leaders across various industries, predominantly in B2B equipment manufacturing sectors, and several best practices for crisis management.
We have grouped them into 11 streams within 3 clusters. The names of these 3 clusters form a nice acronym: S.O.S.
S

afety.

O

peration.

S

tructure.
For each of the 11 streams we have identified the six most important topics.
This guide will describe each stream in 8 paragraphs;
One about the risks to address with these practices.

One about the goals or objectives.

One paragraph on each of the 6 specific topics.
Safety
This COVID-19 outbreak is in essence a health-crisis, in which safety of people is the primary concern. The direct impact of the health-crisis, as well as the many radical measures to mitigate infections and reduce casualties, can lead to other crises, like an economic crisis.
Protect People
The big challenge is to keep people safe, while continuing social and economic life as much as possible. So, the real challenge for businesses is;
How to keep people safe, while continuing operations?

or



How to continue operations, while keeping people safe?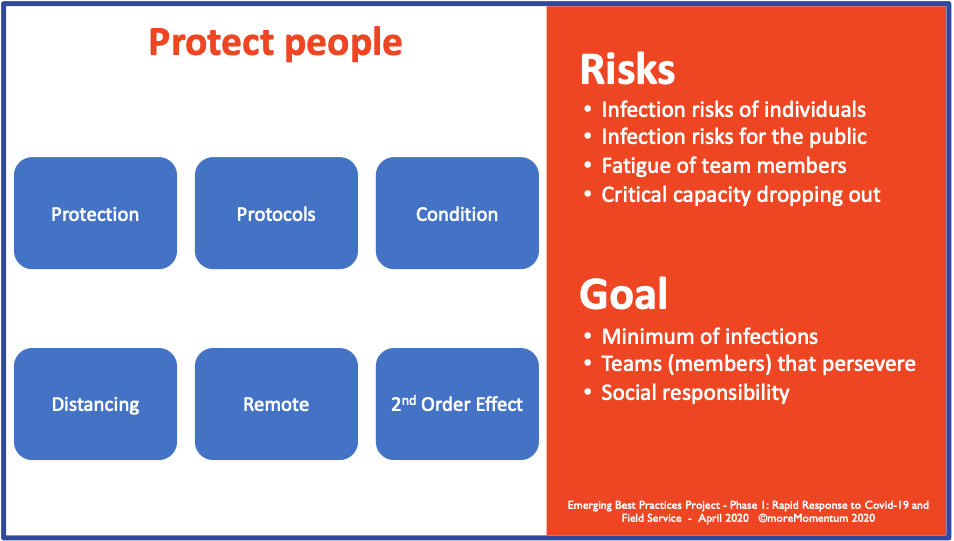 Risks to address
Infecting individuals in your organisation or your clients' organisation

Infecting the public, for example when travelling

Fatigue of team members, caused by extra workload and stress

Critical capacity dropping out because of infection, other illnesses or burnouts
Goal
Minimal amount of infections

Team members that persevere

Everyone taking social responsibility
Read more about Protect People during Covid-19
Maintain Mindset & Wellbeing
Safety of your team members is not only about avoiding infections. Particularly when a crisis is long and intense, has a big impact on people's lives and causes a lot of uncertainties, the overall mindset and wellbeing of individuals and teams becomes important too.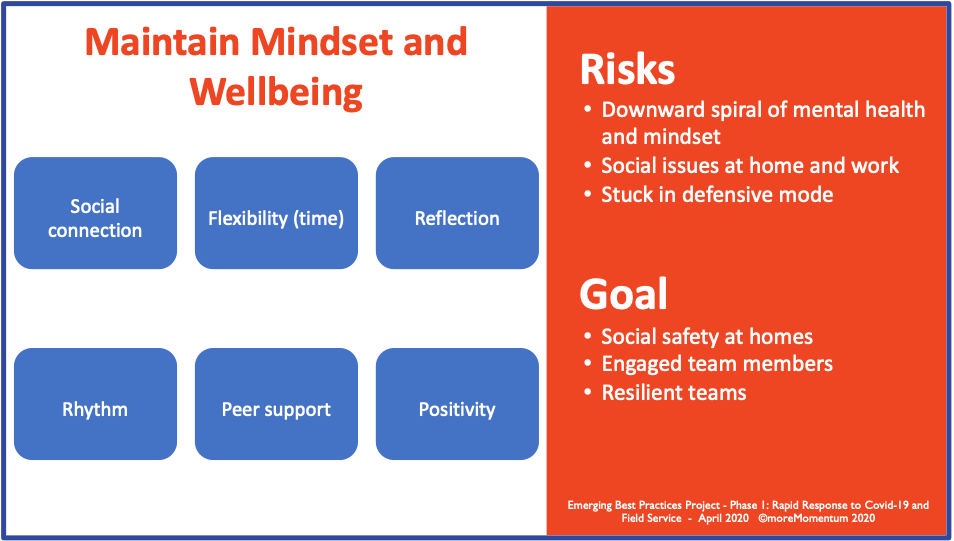 Risks to address
A downward spiral of mental health and mindset caused by fear, stress, boredom, loneliness or being overwhelmed. This can lead to lower motivation and resilience

Social issues at home and work, which are a problem in itself, will also distract them from performing as needed

Individuals and groups getting stuck in a defensive survival mode, in which they will not see new threats, issues and opportunities and might take the wrong actions
Goal
Social safety at homes

Engaged and motivated teams and individuals

Resilient teams that keep on doing good work to survive and thrive during the crisis
Read more about Maintain Mindset and Wellbeing during Covid-19
Reflect on Ethics
Also, in difficult times, we want to do the right things right, because;
It is the right thing, obviously

We need to maintain the integrity of our brand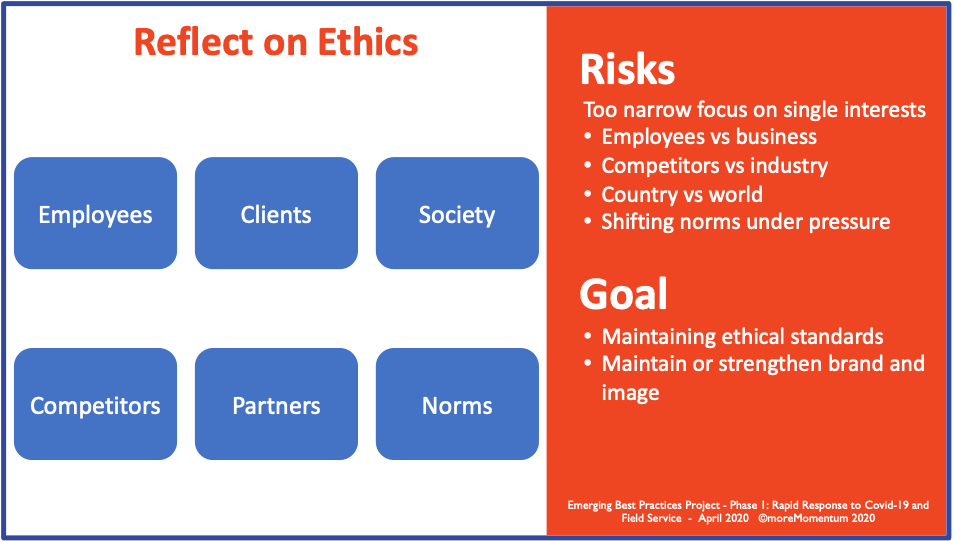 Risks to address
In difficult times with a lot of pressure and risks, we run the risk of being too focussed on single short-term interests of ourselves. We risk;
Sacrificing the interests of employees over business interests

Sacrificing the continuity of the industry over beating competitors

Ignoring the public and social interests

Shifting our norms and values, maybe even without noticing
Goal
Maintaining ethical standards

Maintaining (or even strengthening) our brand and image
The main point of this chapter is to make sure we have enough and explicit attention for the ethical aspects of our decisions and actions. We need to consider principal values as well as the consequences of our actions and decisions. It is important to formulate the values you want to adhere to explicitly.
Aspects to consider
Employees

Clients

International society

Competition

Partners and suppliers

Social and ethical norms
Read more about Reflect of Ethics during Covid-19
Operations
COVID-19 as well as measures from national governments and individual companies will impact your business and the business of your clients, vendors, partners and service providers. What kind of impact and the extent thereof depends on your industry and varies per country and in time.
In some industries the demand for products and/or services remains, in a few it even increases (for example in healthcare) and in some the drop is quite dramatic.
Whatever the situation is for your business, it will require some serious adjustments to meet the changing demand, to secure the continuity of support to your clients and to secure the continuity of your operations. This will require you to;
Adjust Priorities in your Operating Model

Collaborate with clients, contractors and many other parties

Secure Facilities & Tools
Adjust Priorities in Operating Model
During a crisis many aspects of the normal way of working will not be adequate to continue business, or may simply not be possible to continue. Phase 1 – Rapid Response requires rapid and often drastic adjustments of both priorities and the operating model. Some only for the immediate short term, some maybe for a longer period.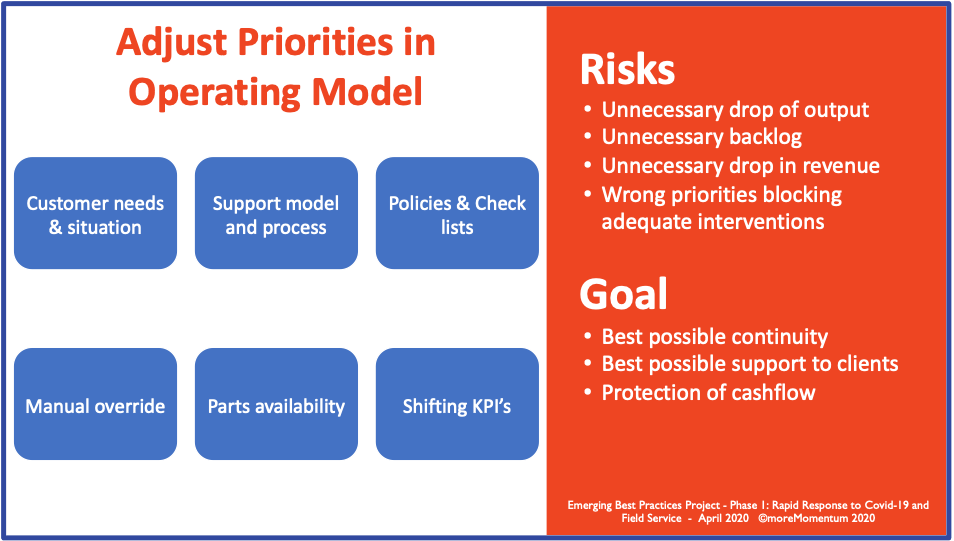 Risks to address
Unnecessary drop of output, caused by delaying work that could have been executed

Creating unnecessary backlog, which will be a struggle to resolve when the measures are gradually being released

Unnecessary drop of revenue, which could be caused by delaying work or not adjusting the revenue model for remote service delivery

Having the wrong priorities, which hinder adequate interventions to mitigate the impact of the crisis
Goal
Secure the continuity in the best possible way

Support clients in the best possible way, while their needs and challenges are changing as well

Protect the cash flow of your business. Companies running out of cash will be the first to go bankrupt
Read more about Adjusting Priorities in your Operating Model during Covid-19
Relocate and Reassign Capacity
In the past decades, an important focus used to be efficiency and scalability. This has led to consolidation and concentration of many functions, suppliers and service providers. In times of crisis and disruption, the downside of this could be a higher vulnerability to events like travel bans, lock-down of countries, companies going bankrupt, scarcity of goods and many more.

This chapter concentrates on short-term interventions to distribute capacity in times of crisis like the COVID-19 outbreak. Potential longer-term adjustments to achieve more resilient and anti-fragile operating models will be covered in phase 2 – Review & Outlook and Phase 3 – Redesign & Innovate.
Risks to be addressed
Single points of failure in (human) resources and the supply chain

Allocation of capacity is not aligned with shifting demand for capacity

Part of the team members being dismissed and disengaged, as their work is not critical at the moment
Goal
Decrease of vulnerability

Spread of risks and points of failure

Maximum utilisation of capacity

Everyone is involved and contributes
Read more about Relocating and Reassigning Capacity during Covid-19
Collaborate
In times of crises, we are all in the same boat to survive and thrive. You may need to collaborate with parties you normally would not collaborate with as well as exchange critical information all over the world.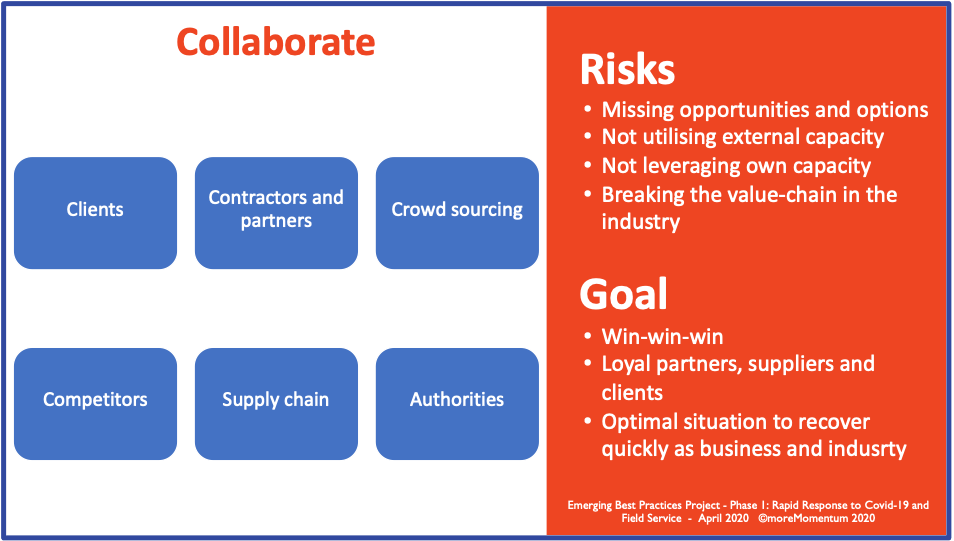 The interesting thing is, that in today's very connected world, there is a huge potential to quickly find contractors and partners to collaborate with.
Risks to be addressed
Missing important opportunities and options to mitigate the impact for your clients and your own business

Not utilising external capacity for critical functions with high demand

Not utilising available internal capacity and securing the continuity your business

Causing unnecessary damage to the entire industry which will slow down recovery post crises for everyone, including your own business
Goal
Win-win-win, we are all in the same boat

Build loyal relationships with clients, suppliers and partners

Prepare for rapid recovery of the industry and your business
Read more about Collaboration during Covid-19
Secure Facilities & Tools
In times of crisis, you may have high demands for a specific critical gear or tool, to secure safety or accommodate a potential increase of demand from your clients. On the other hand, capacity, supplies and logistics of these gears and tools may be impacted and limited. Therefore, securing the availability of certain facilities and tools will be critical for safety of people and business continuity.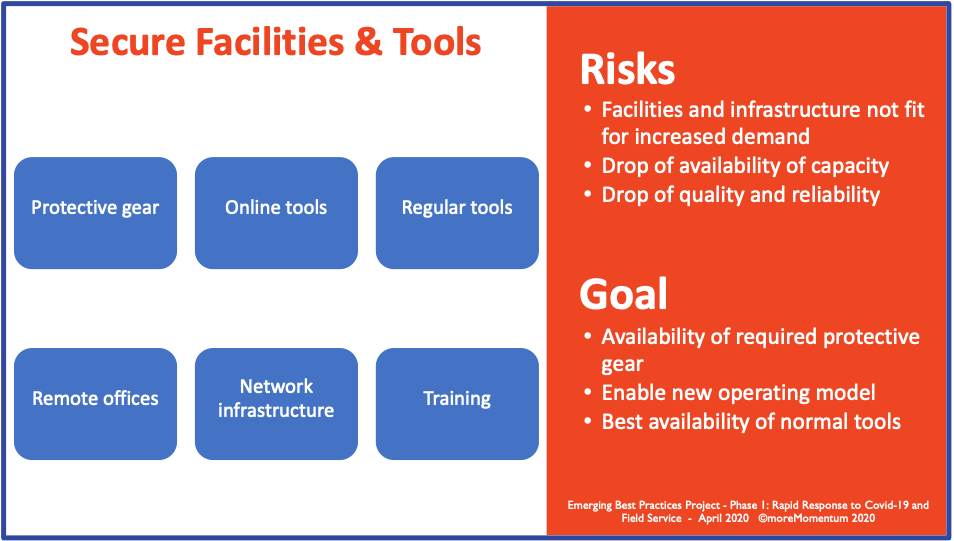 Risks to be addressed
Facilities and infrastructure are not fit for the increasing demand

A drop of availability of capacity

A drop of quality and reliability, which may particularly be critical for protective gear you rely on
Goal
Secure the availability of required protective gear

Enable the (temporary) new operating model with different needs for tools, facilities and infrastructure

Secure the best availability possible of normal tools, which may become scarcer due to the crisis
The following are critical facilities and tools during the COVID-19 crisis.
Read more about Securing Facilities and Tools during Covid-19
Structure
In times of crisis, not only activities and operations are different from business-as-usual, also the way we manage our organisation and teams, as well as the way we take decisions and execute them will change.
Build Taskforces
In a crisis like the COVID-19 outbreak, and especially during Phase 1 – Rapid Response, the speed and criticality of developments and decisions to be made require a temporary change in governance. Most companies have established some sort of;
Taskforce

Crisis management team

War room


Risks to be addressed
Slow decision-making processes and actions

Lack of coherence and alignment

Illusion of control

Lack of ownership in the organisation

Staying too long in a short-term firefighting mode
Goal
Agile and adaptive decision making

Coherent and aligned interventions

Everyone has ownership and is involved

Get prepared for the mid-term
Read more about Building Taskforces during Covid-19
Clarify and Adjust Mission
In times of crisis it is becomes even more critical to have a clear and compelling mission statement or strategic intent which provides a direction for team members and keeps them motivated and resilient. Also, the trust of external stakeholders will improve when you have a clear mission or strategic intent.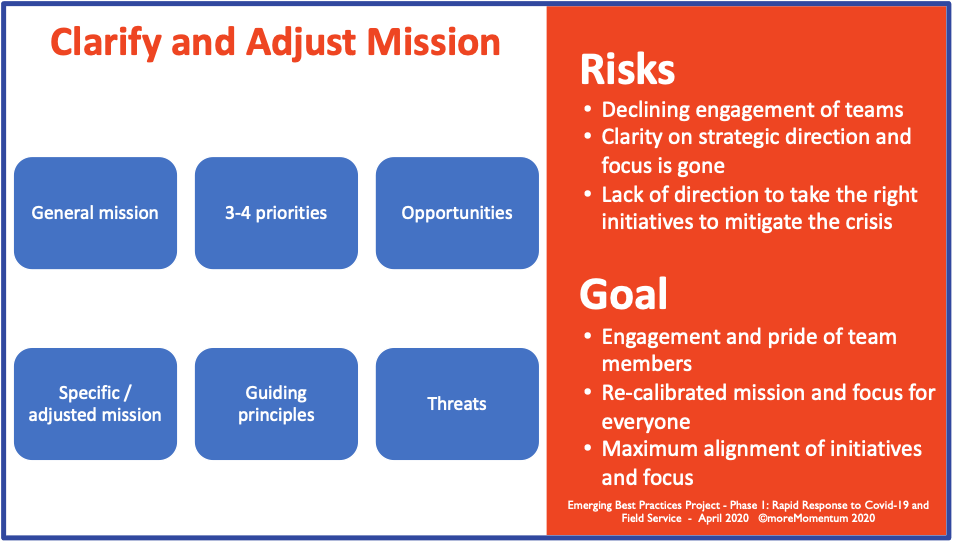 Risks to address
Declining engagement of your teams

Lack of clarity on the strategic direction and focus for leadership teams and team members

Lack of direction to take the right initiatives to mitigate the crisis
Goal
Build and maintain engaged and proud teams

Have a re-calibrated mission to adjust the focus for everyone

Maximise the alignment and coherence of initiatives and focus across the entire organisation
Read more about Clarifying and Adjusting Mission during Covid-19
Communicate for Clarity
This is a tough one. We already know that communication is important and often recognise that poor communication is the reason something fails. This observation does not solve the challenges. What is good communication?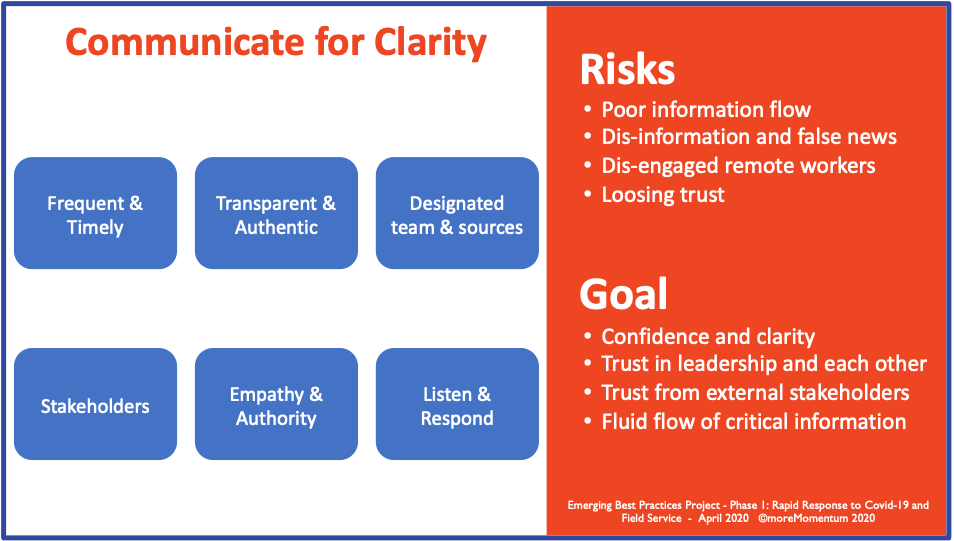 Risks to address
Poor flow of information

Dis-information and false news getting the overhand

Disengagement of team members, particularly remote workers are vulnerable

Decline of trust by team members, clients, suppliers, authorities, public etcetera
Let's elaborate a bit on false news and disinformation.
In times of crisis we see a lot of concerns, fears and uncertainties. Under pressure, people tend to seek for handholds to increase a feeling of certainty. Poor communication will lead to people searching for other sources of information, fill in the blanks and let emotions become dominant when looking at information, opinions and decisions.
For most people falling into this trap, it is absolutely not intentional and by no means an act of sabotage or resistance. It is a natural defensive behaviour of human beings which you as leader need to avoid as much as possible.
Goal
Build confidence and clarity

Build trust in the leadership and each other

Build trust from external stakeholders

Ensure an accurate information flow through the organisation and with external stakeholders
Read more about Communicating for Clarity during Covid-19
Establish Financial Resilience
During a crisis, one of the biggest threats for companies is going bankrupt due to lack of cash to cover the immediate expenses. This bankruptcy can be immediate or the result of a downward spiral process, in which activities must be gradually stopped due to lack of cash, leading to a decrease of revenue and cash-inflow.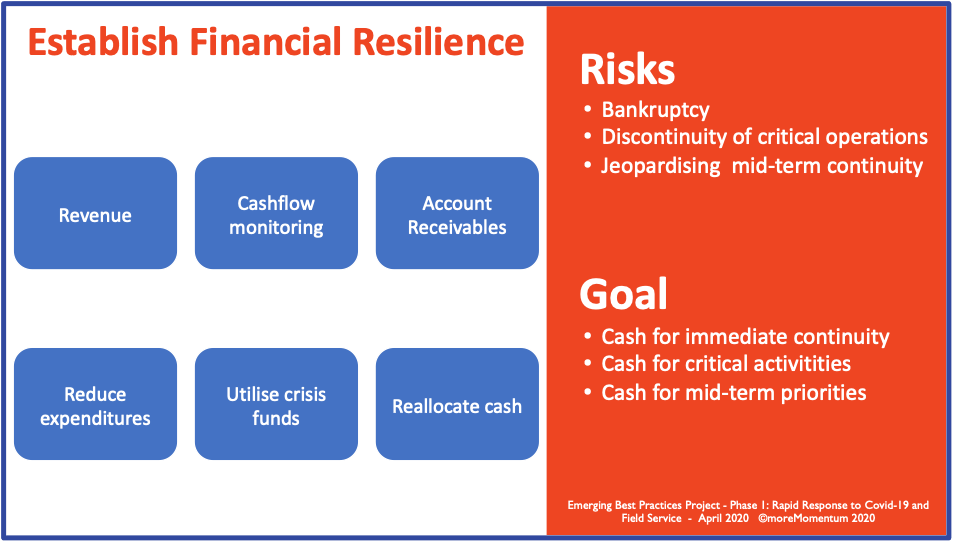 Risks to be addressed
Going bankrupt due to lack of cash

Discontinuity of critical operations, due to lack of cash

Jeopardising mid-term continuity due to (financial) limitations on critical developments
Goal
Cash for immediate business continuity

Cash to critical activities

Cash for mid-term priorities
Read more about Establishing Financial Resilience during Covid-19
Reflections
After a couple of weeks of talking with many business leaders and experts, it is impressive to see how people and companies are responding to the huge impact of COVID-19.
I would like to share a few observations of myself as well as experts and leading service-peers I have been talking with.
Collective fight against COVID-19
It is exciting to see how many companies, clients, suppliers and industries are collaborating to overcome the impact of COVID-19 together. We feel we are all in the same boat, fighting the same enemy.
High readiness for change
It is amazing to see how rapid organisations, businesses and governments are adapting, taking decisions and act accordingly. That is, how quickly individuals and teams can take actions and execute changes. We all are fighting the same enemy and know what is at stake.
I hear a lot that this would confirm change management theories that people need a burning platform or crisis to change. That this crisis would improve the change-readiness for the next few years.
I believe we should not take the current change-readiness for granted.
My concerns are;
Typically, in disruptive crises, there are more companies failing to adapt sustainably than there are companies that succeed and thrive

The high stress level concentrates on specific threats and creates a tunnel vision towards those immediate threats. Fire-fighting and short-term solutions prevail. Longer-term changes typically are neglected

When the health crisis will become a very long one, we may see fatigue arising and people will start losing their commitment, proactive attitude and lose their readiness to change

If we enter in a deep and long economic recession, this probably will accelerate market disruption with many losers and only a few winners
We will further assess this in our Best Practices Project Phase 2 – Review & Outlook and prepare a strategy for such scenarios.
Differences in power to adapt
I have seen some considerable differences in the speed with which team members of different organisations change and the level of engagement of team members. There are a few characteristics the companies with a higher speed of change and engagement share;
Employee engagement was already high and embedded in the organisation with good practices for some time

Processes are well structured, standardised and automated to a higher degree

Remote capabilities were already a priority with ongoing innovation programmes

Customer centricity is in their DNA

Strong innovation capabilities and strategies are in place
Acknowledgements
Many service leaders across the world, as well as the members of the moreMomentum Community Peer Groups have contributed to this "Ultimate Guide to phase 1 – Rapid Response to the COVID-19 Crisis".
We had several webinars, Q&A sessions and interviews in which many people contributed. I have also participated in other expert-sessions and online symposia.
I would like to especially thank, in alphabetical order:
Gordon Abraham, Bollegraaf

Eric Steffers, Miele

Jess Kindler, Epicroc

Jörg Brandstädter, Qiagen

Juha Kuntola, Raute

Kris Oldland, Field Servce News

Mark van der Wolf, Moba Group

Martin Fischer, Zeiss

Naimish Rajyaguru, Symphony Limited

Paolo Dazi, Konecranes

Patrick Jansen, VBR Turbine Partners

Rajat Kakar, IBM

Ravichandra Kshrsagar, Schnedier Electric

Ron van Zonneveld, Kardex Remstar

Sae Kown, Cisco

Sebastien Leichtnam, Munters

Seva Garvrilov, Volvo Penta

Thorsten Leidreiter, Messer Cutting Systems Europe
Phase 2 - Review and Outlook
...
Phase 3 - Redesign and Innovate