4 min read
Protecting People During Covid-19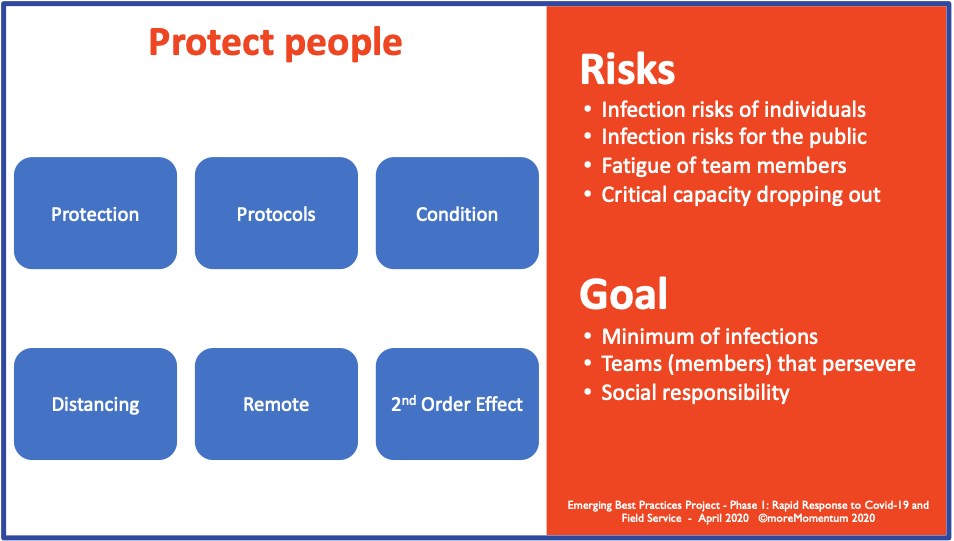 The big challenge is to keep people safe, while continuing social and economic life as much as possible.
So, the real challenge for businesses is:
How to keep people safe, while continuing operations?
or How to continue operations, while keeping people safe?
Introduction
To mitigate the immediate impact of a crisis like Covid-19, one of the major objectives and challenges is to keep people safe.
This is one of the 3 main sections from the "Ultimate Guide for Phase 1 - Rapid Response to Mitigate the Immediate Impact of Covid"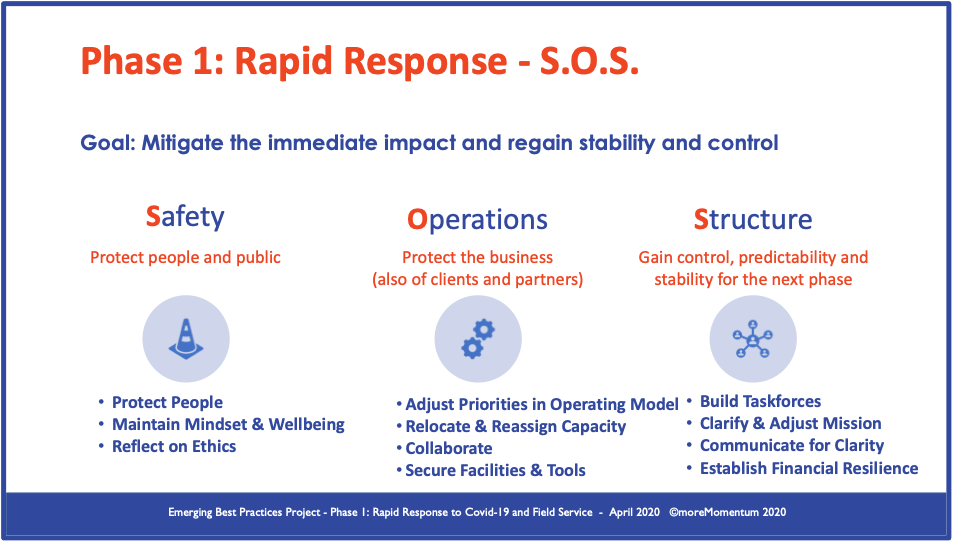 Regarding Protecting People:
Risks to address
Infecting individuals in your organisation or your clients' organisation
Infecting the public, for example when traveling
Fatigue of team members, caused by extra workload and stress
Critical capacity dropping out because of infection, other illnesses or burnouts
Goal
Minimal amount of infections
Team members that persevere
Everyone taking social responsibility
Main aspects
Protection
Protocols
Condition
Distancing
Remote
2nd order effect
Protection
There are circumstances in which team members will have to go to the office, have to go to clients and have to travel. When travelling, they may be in less controlled environments like public transportation, hotels, airports, airplanes and clients' sites. They will have higher risks of being exposed to infections.
To minimise these risks, they need adequate personal protection, like:
Gloves
Masks
Facial protection
Hand-sanitisers
Protective cloths
Vaccination, which is not available yet for COVID-19 (April 2020)
It is important to follow the latest guidelines and instructions of trusted (international) authorities like WHO, national health authorities and national and local governments.
Keep in mind that some team members may be more vulnerable to the virus than others. This may require differentiation in your approach regarding protective gear and work assignments for different levels of potential exposure.
Protocols
Safety and protection are not only a matter of protective gear. The protective gear must be used in the right way too. Another aspect is the safe behaviour of team members and other individuals your team members interact with, like staff of clients, logistic providers or contractors.
Before sending a team member to a clients' site, check with the client:
The (local) safety protocols and regulations

If there are any health issues with any of their staff

Any risks for vulnerable staff

Your protocols and safety precautions

How work can be prepared remotely to make the visit on site as short as possible
The best way to achieve that is to:
Define clear and succinct protocols and instructions on critical behaviours
Include scripts and procedures for the preparation of any visit to clients or from external staff
Capture the situation at client site
Create easy to use instructions and infographics
Distribute them amongst all team members
Share them with any external people before any interaction
Define and follow a protocol to safely escalate any deviations and incidents and to take immediate action if these occur, by anyone in the organisation
Create a "habit" of correcting each other when needed
Condition
The COVID-19 crisis is going to last a long time and will be demanding a lot from many people in your organisation.
The risk is that people will:
Take less care of their fitness and condition

Become more vulnerable for other safety risks

Reduce their immunity for any decease
To avoid this, everyone should ensure they:
Sleep enough, regardless of the workload
Eat healthy
Exercise
Distancing
For the time being, we need to minimise the number of face-2-face interactions. In case these are unavoidable, keep a distance from each other as much as possible. The following practices are being applied:
Work from home when possible

Separate teams that need to work in the office or factory, into 2 or more fixed teams and only allow 1 team at a time in the office or factory. Avoid any interaction between the different teams to avoid infection of other teams if one team member is infected

Distribute workplaces as much as possible to keep the allowable distance

Separate workspaces with fences or screens

Route any human traffic of staff, clients or staff of other companies via screens, fences, arrows or signs

In more crowded places, have "traffic officers" monitor the behaviour of the crowd and intervene if necessary
Remote
Push interactions between people (colleagues, clients and others) to remote, virtual or online channels. For example:
Support your clients via the phone or other, more advanced remote capabilities
Have meetings online, using any video-conferencing platform
Organise webinars to communicate with groups of clients or team members
Use an online training platform to train team members, for which you may have an increasing demand in a crisis
2nd Order Effect

Too often we see that an intervention has undesirable (side) effects, making the intervention useless or even counterproductive. Some examples are:
An increase of the number of people at the office because of a prohibition to travel

More crowed trains, because of the reduction of trains on the tracks

Higher risks in the factory because critical staff is now working remotely and therefor makes mistakes

Accidents at clients' locations because untrained people are taking over tasks of trained service engineers
This should be avoided by:
Thinking potential effects through before executing a measure
Communicating the goals and guiding principles along with the measures, so people can escalate undesirable side effects and allow rapid correction
If possible, stress-test scenario's and measures beforehand, even before they are needed
Download the full Guide for Phase 1 - Rapid Response