5 min read
Adjust Priorities in Operating Model during Covid-19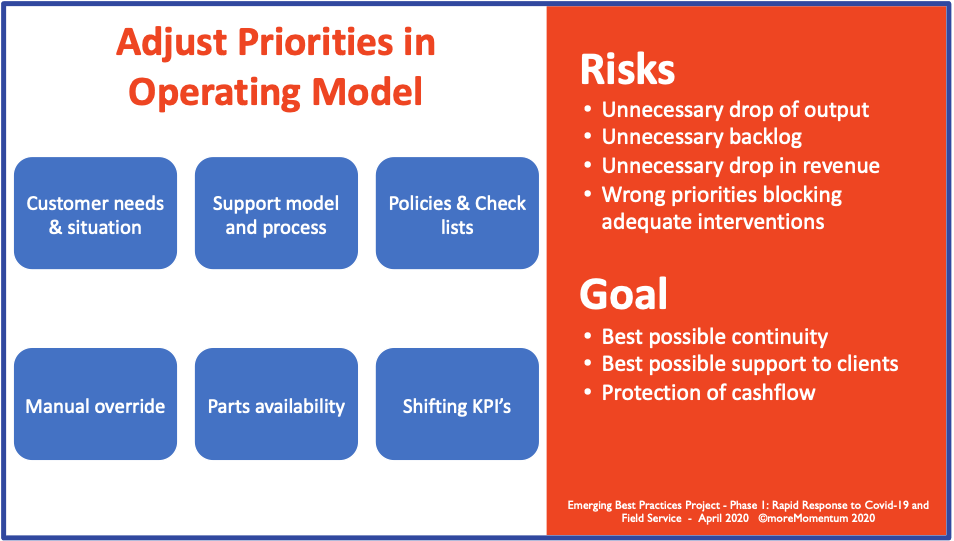 During a crisis many aspects of the normal way of working will not be adequate to continue business, or may simply not be possible to continue. Phase 1 – Rapid Response requires rapid and often drastic adjustments of both priorities and the operating model. Some only for the immediate short term, some maybe for a longer period.
Introduction
To mitigate the immediate impact of a crisis like Covid-19, one of the major objectives and challenges is to keep people safe.
This is one of the 3 main sections from the "Ultimate Guide for Phase 1 - Rapid Response to Mitigate the Immediate Impact of Covid"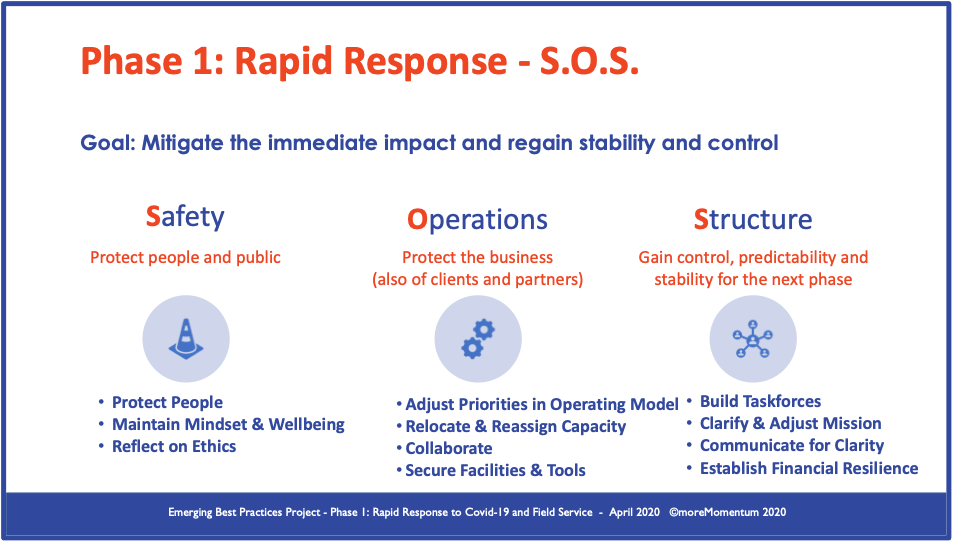 Regarding Adjust Priorities in Operating Model:
Risks to address
Unnecessary drop of output, caused by delaying work that could have been executed
Creating unnecessary backlog, which will be a struggle to resolve when the measures are gradually being released
Unnecessary drop of revenue, which could be caused by delaying work or not adjusting the revenue model for remote service delivery
Having the wrong priorities, which hinder adequate interventions to mitigate the impact of the crisis
Goal
Secure the continuity in the best possible way
Support clients in the best possible way, while their needs and challenges are changing as well
Protect the cash flow of your business. Companies running out of cash will be the first to go bankrupt
Main aspects
Customer needs & situation
Support model and process
Policies & Check lists
Manual override
Parts availability
Customer needs & situation
Most certainly the challenges and problems of your clients will change due to the crisis and will continue to change rapidly in the near future. Customer demand may decrease, increase and shift. For some the ability to adjust and continue the support will be more critical than for others, depending on the industry.
Also, purely from a business perspective, some customer segments may be more important than others, considering the impact on their loyalty, your short-term revenue and longer-term revenue.
Here are some best practices from various industry leaders to deal with shifting customer needs:
Prioritise certain customer segments and clients to concentrate on. Consider how critical their operations are for society during the crisis, their ability to continue paying you and the likelihood of their survival.
Also consider which non-clients you may want to support, again from both perspectives; criticality of their operations for society and opportunities to build loyalty with new clients
Stay in close contact with your clients, discuss their views, concerns, challenges, limitations, possibilities, strategies and needs. Also discuss what they can do themselves (maybe with help from their local contractors)
Agree with your clients what the critical work is that must be secured as much as possible and on which equipment
Agree with your clients what work can be executed now, because it is safe, and delay could cause more issues later. This can also help securing revenue on the short term
Secure your revenue streams by adjusting the agreements with your clients (via an addendum for the next 3-6 months), which cover service levels and invoicing for the new remote service delivery models
Regularly review and adjust the demand forecast for the short term
Support model and process
The aim is to continue (paid) work as much as possible within the pre-requisites of safety to secure business continuity of your own business and the business of your clients.
This will require some significant adjustments in your service delivery model and operating model;
Move service delivery to remote and supported self-help as much as possible
We have seen that in these circumstances, clients are often willing to walk the extra mile and support remote support where they normally would have security objections or simply demand/expect a field service engineer. From this effect alone, an increase of remote resolution rates of 10-20 percent points have been reported
A lot can be done with basic tools like WhatsApp, WeChat, skype and the like.
Service companies which already had made good progress in preparing remote capabilities with more advanced technologies (like AR), could fast track these projects into implementation
To enable supported self-help by client-personnel, conduct extra online training of the staff of your clients to improve their capabilities to conduct more work themselves in a safe way
Have very clear criteria when to dispatch a service engineer and how
If a field service visit is unavoidable, it may be an option to delay the visit by applying quick fixes with your client for the short term.
Prepare as much as possible of the work to be done remotely, reducing the required time and interaction with client-personnel as much as possible
If on site, ensure no client-personnel is in the proximity of your field service engineers
Adjust the work procedures so that, as much as possible, only one field service engineer can do the job
Reorganise the signoff by the customer after service delivery, to avoid physically interaction and exchange of papers. This can be done through email and electronic signatures
Reorganise the planning and scheduling activities. Parameters will change dramatically from business-as-usual. Jobs may take longer, travel may take longer, parts may take longer to arrive, and maybe your capacity will be affected by field service engineers in quarantine before and after a visit to a client
You may need to change the guiding principle of doing extra work to anticipate on a better MTTR or – on the contrary – avoid this as much as possible to focus purely on the bare minimum
Policies & Check lists
From many projects in the past we know it takes some time before processes are implemented and adhered to globally. In a crisis situation, rigor and discipline in the execution is paramount. Most probably, the change readiness of the organisation will be pretty high in early phases of a crisis. However, it is critical to avoid any misunderstanding, confusion or mistakes from old daily routines.
To ensure robust execution of adjusted processes and procedures, it is important to:
Document changed processes and procedures and communicate them repetitively
Conduct extra training to ensure everybody knows, understands and is proficient
Include practical checklists and infographics
Monitor how well the new processes are executed and how well they work. Adjust if needed.
Consider local differences in challenges, issues, possibilities, capabilities and regulations. One size doesn't fit all, particularly for international service operations.
Manual override
Many algorithms and parameters of automatic functions may not be adequate anymore and lead to wrong decisions and results. For example, workforce planning, job scheduling and parts ordering will change dramatically. On the short term this may require:
Changing the automated functions to manual execution
Manually correct certain automated actions
Parts availability
To secure the necessary and desired operations, spare parts availability is crucial. To secure service delivery, the following actions are required:
Assess criticality of parts, taking into consideration the change of demand and the adjusted priorities of services delivery
Assess the inventory of critical parts
Assess the risks of delivery failures of the critical parts
Ramp up stock levels where needed as soon as possible, ideally before availability really becomes an issue
Find additional sources of parts (see next chapter)
Where needed and possible, shift the focus of field service engineers to lower spare parts consumption and allow longer repair times and MTTR
Shifting KPI's
The behaviour of most of the team members and the way they execute their work is greatly driven by the targets and performance indicators by which their performance is measured. In time of crisis, there are many aspects of the operations that are confronted with shifting priorities and requirements.
To avoid confused team members and conflicting interests, it is important to provide teams and team members clarity on what is expected. This includes clarity on the key performance metrics. You probably need to abandon quantifiable metrics, and just indicate the priorities instead.

This needs to be communicated and confirmed regularly and consequently.
Download the full Guide for Phase 1 - Rapid Response