Executive Service Roundtable
Identifying Growth Opportunities for Services
4 types of strategies that will drive the growth of the short term and the longer term
A few notes from the discussion sessions
Below are some topics and takeaways from our discussion. These notes are not a detailed transcription or summary, nor does it repeat topics already presented at the beginning of the Roundtable meeting.
The discussion was based on the following matrix of typical strategies for growth, which was presented (see recording).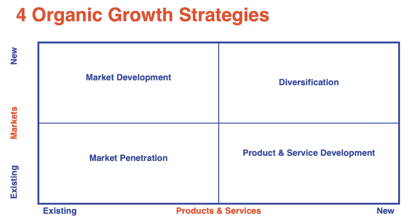 Most participants concentrate on market penetration (increasing market share) or developing new, advanced services for the existing market.

Discussion points regarding market penetration were:

In many cases, the lack of visibility and access to the installed base is an issue, particularly when the go-to-market is via dealers, distributors, system integrators or OEM. One of the priorities is to gain visibility, find the customers using the equipment and establish a commercial approach to increase business volume.

Finding a compelling reason for these potential customers to switch (from DIY or working with 3

rd

party service providers) can be challenging.

A proactive and focused marketing and sales strategy and capability are required to improve market penetration. Examples of some elements of such strategies are:

Modelling your installed base, defining the service elements and potential of each (type of) equipment.

Offer potential customers an assessment or health check that identifies possible improvements you can deliver and that they are missing.

Actively monitoring share of wallet and addressable market.

Setting commercial goals and key results and targets for operating companies in the regions and their sales teams.

Establish a service marketing function, which often is a weak spot.

Establishing a customer success function, which makes achieved benefits visible for (new) customers.

Discussion points regarding launching new services for growth were:

Remote services

Are these new services with growth potential, or are these more advanced capabilities to improve the performance of existing services?
Will these lead to increasing revenue or declining revenue?
We need to be precise about what remote services/capabilities are. These could be:

Remote monitoring.
Remote diagnostics with data already captured or by logging into the equipment for further diagnostics.
Remote intervention, without customers taking any actions or role in this.
Remote support of customers' staff to do diagnostics and interventions. This could be more of a supported DIY-service.

Do customers really want to spend time on service activities? Is this a good way of spending their time? Or do they have other priorities that impact their overall performance?

For these new services to scale successfully, you still need good visibility on your installed base and customer base.
Particularly for industries where maintenance services are being commoditised, it is relevant to find growth opportunities in new, high-value services.
Other (technology) changes can trigger the development of new services. For example:

Electrification of equipment leads to a massive shift in service content.
The push for more circular economies requires new services and solving new customer problems.

Assessment and health-check offerings can be the first step in expanding the scope of your services and revealing the need for your customers for your new services.

Combining strategies

A question is whether you should push for a higher market share with the existing services before driving growth with new services.
There is no silver-bullet answer. A lot depends on the competitive strengths of competing service providers or the maturity of customers' operations in case they do a lot themselves.
There are risks associated with developing new services, but there can also be risks associated with NOT launching new services.
There are good arguments for doing both in parallel.

Other topics (to be covered in upcoming

roundtables

or

summits

)

Developing a deep understanding of customers' (future) needs.
What are their strategic priorities? Which performance metrics are they trying to improve? What are their obstacles? Is uptime or response time one of them?
How to monetise advanced services? How to articulate the customer value? This will be covered extensively during the

Service Transformation Summit

on May 17-18

th

.

Digital services involve quite a few complex challenges:

You need enough data from enough equipment to discover the commonalities or patterns. Before that, it is hard to get value from the data.
Embedding digital capabilities in your delivery model means you will have two delivery models, until most of your installed base and customers have adopted the digital capabilities. In the meantime, cost and complexity go up instead of down.
The required software developments can go fast. The challenge is to develop the capabilities of hardware at a similar pace.